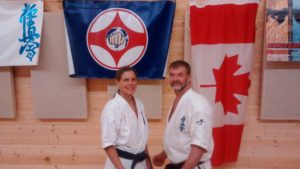 Sensei Mike Richards – Sandan (3rd degree black belt)
Mike's first lesson in Kyokushin was in 1977 however it wasn't until1984 that he started to train regularly in Australia. He reached the rank of Nidan in 1996. In that time he was fortunate enough to train with many world class instructors in several different countries. Mike has also trained with a variety of different martial arts styles and has taught specialized self-defense classes in Australia, Canada and Great Britain. A former tournament champion himself, Mike ran a successful dojo in Australia with students achieving first place in regional, state and national events. A rock-climbing injury in 1997 forced Mike to temporarily retire from formal training around the same time he and his wife and fellow instructor, EJ moved to Canada. At that time Mike focused his energies on the non physical aspects of Karate and rehabilitation until he could train again. He has been training and teaching students on Gabriola Island since 2005 and is a nationally accredited judge and referee. After more rehabilitation and a trip to Japan Mike came back and achieved the rank of Sandan in 2016. Mike's background is in environmental studies, education and marine conservation.
Senpai EJ (Elizabeth) Hurst – Nidan (2nd degree black belt)
EJ started training in 1986 in the Goju Ryu and Chito Ryu styles of karate before switching to Kyokushin in 1992. She obtained her Shodan in 1997 after a successful full contact and non-contact tournament career. She is one of the few women to complete the grueling 40 person kumite as part of her Shodan examination. She has trained with many top instructors in different parts of the world and has experience in a variety of other Karate styles. In 2017, EJ was the first woman in many years in the IKOK-C to successfully test for the rank of Nidan . EJ is a trained environmentalist with a passion for the natural world and works in the publishing industry focusing on environmental and social change.
Senpai Adam Velsen – Shodan (1st degree black belt)
Adam commenced training in 2007 and completed all the requirements for Shodan in 2019.
Senpai Dave Vincent – Shodan (1st degree black belt)
Dave has been training since 2014 and completed all the requirements for Shodan in 2022.
Assistant Instructors
Paul O'Sullivan – 2nd Kyu – Training since 2009
All instructors and assistant instructors are internationally certified, hold first aid and concussion awareness certification and have undertaken a Criminal Records Check.